Our pieces are available at Moccasin Mountain Art Gallery
&

Gift Shop
Kirpach Brayclets invited
to be part of the Inspire program
Kirpach Brayclets was invited by Xanterra, the company who runs the concessions for Yellowstone National Park, to be part of the Inspire program and to have our booth at the historic Old Faithful Inn. We had our booth in the lodge September 9-11, 2022. Such an amazing experience for us to be in this historic setting. We had a great show and will again have our booth in Yellowstone National Park at the Old Faithful Inn in 2023. Dates to be released in 2023 when Kirpach Brayclets will be at the lodge.
Thank you to Xanterra for this wonderful experience and opportunity.
Kirpach Brayclets now has gift certificates available!
Just in time for the upcoming holiday shopping season, we now have gift certificates available. Not sure what to get your loved one? Get them a gift certificate and let them pick out the perfect piece for themselves!
I take your ideas and work with them, to create a custom designed jewelry piece that fits all your needs. I have numerous varieties of turquoise for you to choose from. Custom jewelry pieces can take as long as 8-12 weeks depending on the season, the design, and how many other custom pieces are already in my shop being worked on. I look forward to helping you create that special piece of jewelry you have envisioned.
KC made me my dream leather and tourquise cuff! She listened to my likes and worked with me to decide just what was best! Incredible workmanship and quality!. I made a friend and now I'm hooked and working with her on another beautiful cuff!
My second and not last brayclet. Thank you for the breathtaking art.
I can't say enough of the quality and beauty of this piece! This is my second Kirpachbrayclets purchase. KC is a lovely lady, answering all my questions, sending pictures of the pieces at my request! You won't be disappointed with her gorgeous creations! Shipping was quick as well!
This is a substantial and gorgeous piece! KC is a delight to deal with, so talented, accommodating….she really wants you to enjoy wearing her pieces…And It shows! Many Thanks🙏🏻
Kirpach Brayclets creates one of a kind custom western bracelets and other silver jewelry in her
saddle shop in Lewistown, Montana. The name of my business comes from hearing my mules braying, frequently throughout the day, which gave me the idea for Brayclets. Kirpach, a self taught silversmith, incorporates sterling silver into her designs along with saddle leather, turquoise, other semi precious stones and Vintage Native American pieces.
"I like to take pieces from the past and make something people will enjoy in the future, by giving new life to pieces that may have been hidden away for years". Each piece is hand made in my saddle shop and no two pieces are alike. Kirpach Brayclets has become recognized for quality western bracelets and ships all over the U.S. and recently begun shipping internationally. Kirpach Brayclets has been featured in Cowboys and Indians magazine several times in the past year.
Closest in picture is Mr Magoo, center mule is Benjamin and mule farthest away is Reverend
https://kirpachbrayclets.com/wp-content/uploads/2019/10/New-Pioneer-in-West-Yellowstone-MT.jpeg
599
900
skypointstudios
https://kirpachbrayclets.com/wp-content/uploads/2022/08/unnamed.jpg
skypointstudios
2019-10-29 18:44:21
2020-10-19 14:57:36
Galleries Now Featuring Kirpach Brayclets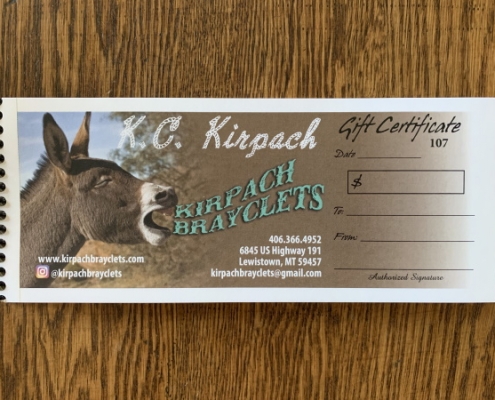 https://kirpachbrayclets.com/wp-content/uploads/2019/10/Kirpach-Brayclets-gift-certificates-now-available.jpg
450
600
skypointstudios
https://kirpachbrayclets.com/wp-content/uploads/2022/08/unnamed.jpg
skypointstudios
2019-10-23 16:07:04
2019-10-23 19:51:28
Gift Certificates Now Available
Address
6845 US Highway 191
LEWISTOWN, MT 59457
Contact